Here's What the World's Central Banks Really Think About Bitcoin
More than eight years since the birth of bitcoin, central banks around the world are increasingly recognizing the potential upsides and downsides of digital currencies.
The guardians of the global economy have two sets of issues to address. First is what to do, if anything, about the emergence and growth of the private cryptocurrencies that are grabbing more and more attention -- with bitcoin climbing above $10,000. The second question is whether to issue official versions.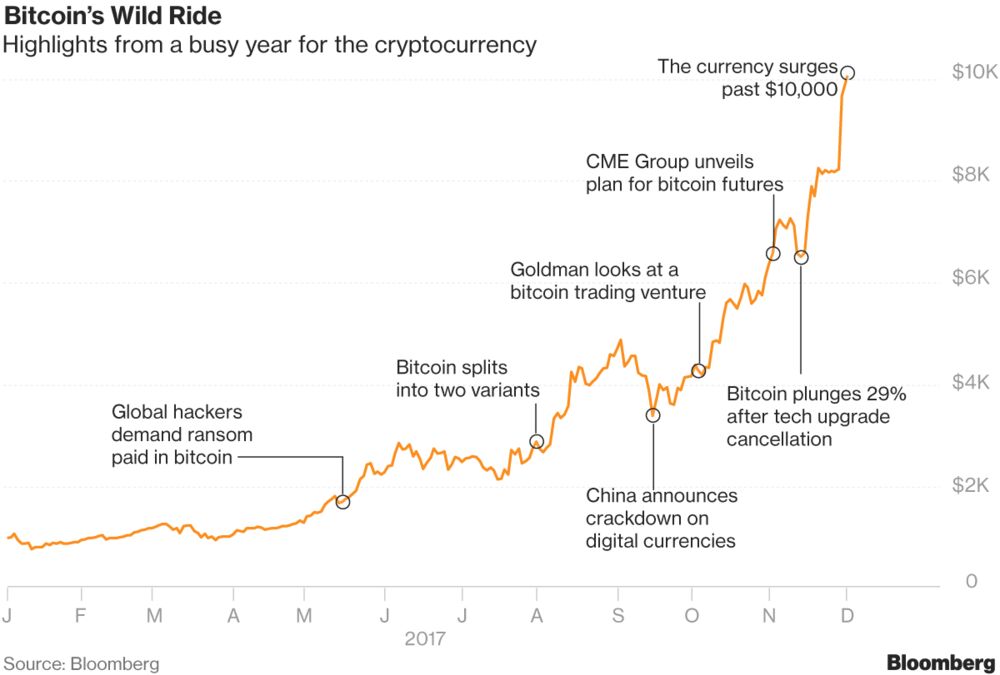 Following is an overview of how the world's largest central banks (and some smaller ones) are approaching the subject:
U.S.: Privacy Worry
The Federal Reserve's investigation into cryptocurrencies is in its early days, and it hasn't been overly enthusiastic about the idea of a central-bank issued answer to bitcoin. Jerome Powell, a board member and the chairman nominee, said earlier this year that technical issues remain with the technology and "governance and risk management will be critical." Powell said there are "meaningful" challenges to a central bank cryptocurrency, that privacy issues could be a problem, and private-sector alternatives may do the job.
The volume of cryptocurrencies could at some point "matter" when it comes to monetary policy, Powell said in answering a question at his Senate confirmation hearing Tuesday. "They're just not big enough" today, however, he said.
Euro Area: Tulip-Like
The European Central Bank has repeatedly warned about the dangers of investing in digital currencies. Vice President Vitor Constancio said in September that bitcoin isn't a currency, but a "tulip" -- alluding to the 17th-century bubble in the Netherlands. Colleague Benoit Coeure has warned bitcoin's unstable value and links to tax evasion and crime create major risks. President Mario Draghi said this month the impact of digital currencies on the euro-area economy was limited and they posed no threat to central banks' monopoly on money.
China: Conditions 'Ripe'
China has made it clear: the central bank has full control over cryptocurrencies. With a research team set up in 2014 to develop digital fiat money, the People's Bank of China believes "conditions are ripe" for it to embrace the technology. But it has cracked down on private digital issuers, banning exchange trading of bitcoin and others. While there's no formal start date for introducing digital currencies, authorities say going digital could help improve payment efficiency and allow more accurate control of currencies.
Japan: Study Mode
Bank of Japan Governor Haruhiko Kuroda said in an October speech that the BOJ has no imminent plan to issue digital currencies, though it's important to deepen knowledge about them. "Issuing CBDC (central bank digital currency) to the general public is as if a central bank extends the access to its accounts to anyone," Kuroda said. "As such, discussion about CBDC revisits fundamental issues of central banking."
U.K.: Potential 'Revolution'
Bank of England Governor Mark Carney has cited cryptocurrencies as part of a potential "revolution" in finance. The central bank started a financial technology accelerator last year, a Silicon Valley practice to incubate young companies. Carney says technology based on blockchain, the distributed accounting database, shows "great promise" in enabling central banks to strengthen their defenses against cyber attack and overhaul the way payments are made between institutions and consumers. He has nevertheless cautioned the BOE is still a long way from creating a digital version of sterling.
France: 'Great Caution'
Bank of France Governor Francois Villeroy de Galhau said in June that French officials "advise great caution with respect to bitcoin because there is no public institution behind it to provide confidence. In history, all examples of private currencies ended badly. Bitcoin even has a dark side -- there were this data attacks." He said, "those who use Bitcoin today do so at their own risk."
India: Not Allowed
India's central bank is opposed to cryptocurrencies given that they can be a channel for money laundering and terrorist financing. Nevertheless, the Reserve Bank of India has a group studying whether digital currencies backed by global central banks can be used as legal tender. Currently, the use of cryptocurrencies is a violation of foreign-exchange rules.
Russia: 'Pyramid Schemes'
Russia's central bank has expressed concerns about potential risks from digital currencies, with Governor Elvira Nabiullina saying "we don't legalize pyramid schemes" and "we are totally opposed to private money, no matter if it is in physical or virtual form." For the moment, the Bank of Russia prefers to delay a decision on regulating the financial instruments unless President Vladimir Putin pushes for action sooner. The central bank will work with prosecutors to block websites that allow retail investors access to bitcoin exchanges, according to Sergey Shvetsov, a deputy governor.
Turkey: Important Element
Digital currencies may contribute to financial stability if designed well, Turkish Central Bank Governor Murat Cetinkaya said in Istanbul earlier this month. Digital currencies pose new risks to central banks, including their control of money supply and price stability, and the transmission of monetary policy, Cetinkaya said. Even so, the Turkish central banker said that digital currencies may be an important element for a cashless economy, and the technologies used can help speed up and make payment systems more efficient.
Netherlands: Most Daring
The Dutch have been among the most daring when it comes to experimenting with digital currencies. Two years ago the central bank created its own cryptocurrency called DNBcoin -- for internal circulation only -- to better understand how it works. Presenting the results last year, Ron Berndsen, who was in charge of the project, said blockchain may be "naturally applicable" in the settlement of complex financial transactions.
Morocco: Violating Law
Representing one of the more stringent reactions, the country has deemed that all transactions involving virtual currencies as violating exchange regulations and punishable by law. Cryptocurrencies amount to a hidden payment system, not backed by any institution and involving significant risks for their users, authorities said in a statement this month.
Bank for International Settlements: Can't Ignore
The central bank for central banks has said that policymakers can't ignore the growth of cryptocurrencies and will likely have to consider whether it makes sense for them to issue their own digital currencies at some point. "Bitcoin has gone from being an obscure curiosity to a household name," the BIS said in September. One option is a currency available to the public, with only the central bank able to issue units that would be directly convertible to cash and reserves. There might be a greater risk of bank runs, however, and commercial lenders might face a shortage of deposits. Privacy could also be a concern.
Agustin Carstens, the incoming head of the BIS, told Bloomberg that bitcoin deserves close scrutiny. "Anything that grows in price as fast as bitcoin has done it, without having a real clear understanding of what is behind it, should at least raise some eyebrows," he said.
By Eric Lam — With assistance by Pooi Koon Chong, Suttinee Yuvejwattana, Siegfrid Alegado, Yinan Zhao, Paul Abelsky, Ahmed Feteha, Mark Deen, Jill Ward, Anirban Nag, Peter Levring, Kati Pohjanpalo, Nick Rigillo, Piotr Skolimowski, Toru Fujioka, Jiyeun Lee, Hannah Dormido, and Jeanna Smialek